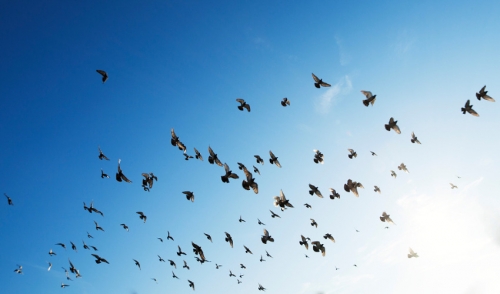 When birds migrate, many of us think of a flock of geese flying South in a V-shaped formation. However, birds migrate for many different reasons in many different ways. Birds typically migrate because they seek to move from areas of low or decreasing resources to areas where there are high or an increasing number of resources in the form of food and shelter. Food and nesting locations are the two biggest reasons why birds migrate in the first place. Birds can migrate during all times of the year. As August approaches, fall migration begins. During this time almost any potential migration pattern is possible throughout the year and can be seen in one or more species.
Birds that nest in the northern hemispheres tend to move south as there is an abundance of food and other resources. Even though the cold may be a motivating factor for many bird species to move south, some species can withstand freezing temperatures as long as there is enough food available for them to survive. There are three types of migration: short-distance, medium-distance, and long distance. Short distant migrations are simple and to the point. When the term short is used, it means what it really says. Short migrations are very short distances as short as one side of a mountain or valley to another. In most cases, short migrations transpire due to a relocation of resources or birds find an abundance of food somewhere close by. Medium distance migration occurs when a bird migrates across state lines due to weather or lack of proper nesting locations. Long distance migrations are the type of migrations many of us are used to understanding. Many of us grew up thinking birds fly south, but how far south was always the question. However, long distance migrations could move from either north to south or south to north depending on the species. These types of migrations normally extend from across the United State to Canada or the United States to Mexico.
A bird's migration pattern is dependant upon its genetic make-up and the resources available to it at that given time within the year. As fall approaches birds will begin to migrate more frequently from August all the way through December. The volume of migration during this period will be largely dependent on the weather, with many bird species waiting until the conditions are favorable before beginning their migration. When migration begins, you'll know it as birds will be moving everyday if you're paying close enough attention. Many factors will play a role including light, temperature, food, offspring, and location. Fall is a great time for birding. As there is still much to understand about the migration of birds, a lot of understanding how particular birds migrate will come to you by happenstance. Bird migration is spectacular to witness so pay close attention as there will always be many factors contributing to how a bird migrates during the year.